We've worked with dozens of home security cameras, and installation is often a significant issue. Laying ethernet cables and drilling holes in your home are neither desirable nor optimal.
The solution is wireless security cameras. We've tested and narrowed down the 10 best outdoor wireless security camera systems with DVR for easier installation.
10 Outdoor Wireless Security DVR Camera Systems in 2020
9 Features To Look For
1. Included HDD
A key factor to look at when purchasing the best outdoor wireless security camera system with DVR is whether the recorder comes with a hard disk drive (HDD).
Most units come with an HDD provided with the system, usually around one to two terabytes in size. However, cheaper recorder systems will often not have a hard disk included.
In this instance, you will need to purchase a separate external HDD to store video on. While having to buy a separate hard drive is not a bad thing, it's essential to be aware of this fact when you first purchase your unit.
2. DVR Camera Video Quality
Video resolution is one of the most important factors when purchasing outdoor security cameras (1). You want cameras that have excellent image quality. In the event something happens, it's essential that you can make out details of people or vehicles upon playback.
This is especially important at night, having a camera that has some kind of night vision, which we will discuss more about next. The ideal video quality for an outdoor camera is at least 1440p or 2k video resolution.
Recommended Article: What's the Best Cheap Video Doorbell Camera?
3. Motion Detection
While the vast majority of wireless security cameras are connected via a cable to a power source, some operate using a lithium-ion battery. If you purchase a camera that has a battery, it should also have some kind of motion detection feature (2).
Battery-powered cameras will use motion detection to activate when there is activity within the camera range. This helps to save battery life so that the video only records when needed.
Some PTZ camera types will also use motion detection, allowing the camera to focus on different activity zones as well as save battery life.
4. Ease of Setup
By their very nature, wireless home security cameras are meant to be easier to set up than their wired counterparts. However, this isn't always the case. Make sure to think about how the camera installs and the areas of your home where you want to install them.
Look at the base plate and how it secures to the surface. Make sure the system also comes with everything you need, including screws or adhesives, so that you don't have to round up extra parts.
5. DVR Storage Capacity
There are two primary methods that a video recording system can use to store footage, either on a disk drive or through cloud storage. Ideally, you want a device that has both options. For a disk drive, it's best to have at least one terabyte but preferably two.
With cloud storage, it will depend on the specific provider you are working with and how much you are willing to purchase or how much you get with your plan. The benefit of cloud storage is that you can use it to back up important footage and access it through an app.
6. Night Vision
High-quality night vision is essential in the best wireless cameras for security. If an incident happens during the evening hours, you need to be able to view things like license plates, people's faces, the make and model of vehicles, etc (3).
Something else to take into consideration will be if a camera has color night vision or only infrared lighting. Color night vision cameras have extra sensitive image sensors that use ambient light to show color even at night. Infrared vision, on the other hand, works by projecting infrared light around the lens to improve the image clarity at night.
In our comparison of Lorex and Swann, you can check out their specific camera models that offer night vision surveillance systems.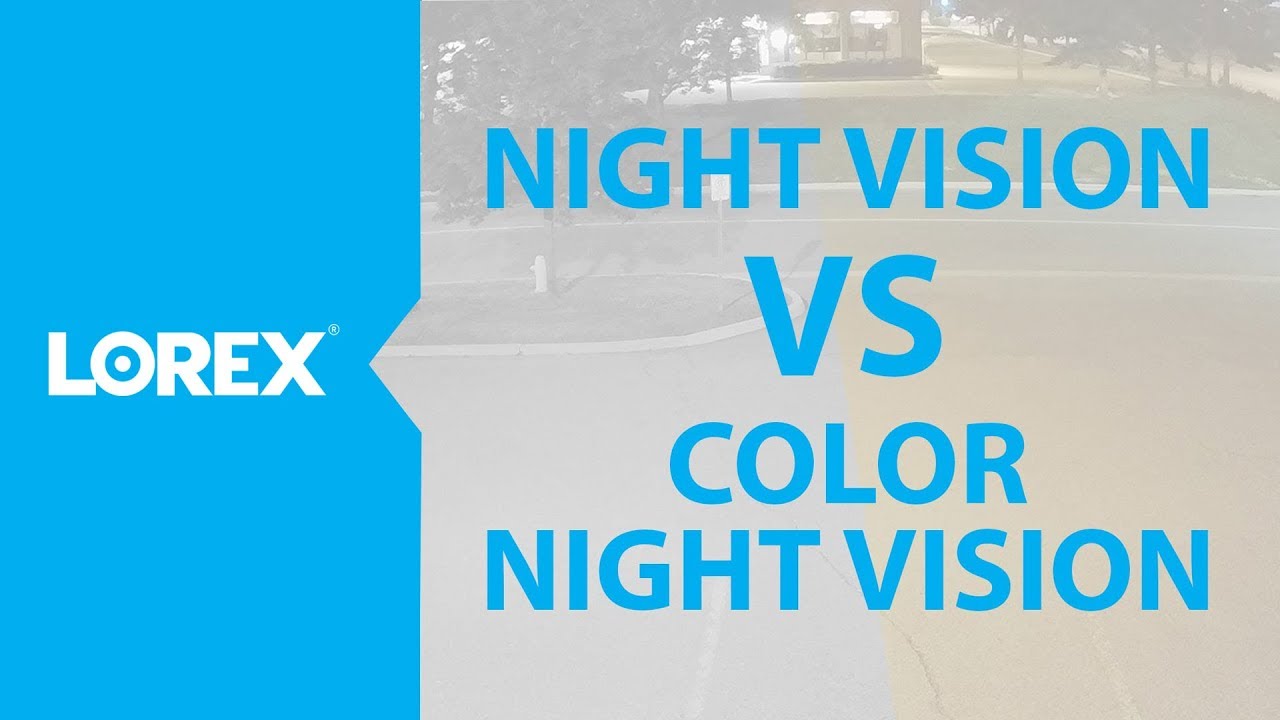 7. Two-Way Audio
Some cameras of security systems are capable of two-way audio communication. If you have an app, this can be particularly useful as it allows you to monitor and communicate with anyone around your home. You could use this, for example, to communicate with someone who is visiting your home if you aren't there.
Certain cameras with motion detection can be set up to send you push notifications when activity is detected, allowing you to communicate with anyone on your property quickly.
8. Smart Home Integration
Smart home automation is becoming increasingly more popular with home security systems. Devices like the Amazon Echo and Google Assistant are being used to control a DVR security system allowing you to arm and disarm it by voice command.
"For my money, this Reolink security system is the absolute best. Installation and setup are quick and easy, and the image quality is crisp and sharp."

- Verified Customer
Indoor/outdoor security cameras are also using smart home automation to help make operating these devices easier. If you have a smart home setup, look for cameras that can complement your current equipment.
Check out these related smart home articles:
9. DVR Camera Mobile App
Most home security providers nowadays provide a mobile app to make using their systems easier. This can include third-party applications such as Alarm.com or in-house apps. Keep in mind that these apps can make using your camera much easier as you can remotely keep an eye on your system.
Usually, you can access cloud storage through mobile apps as well to review stored video footage.
FAQs
Is NVR better than DVR?
NVR is better than DVR as it receives a pure digital signal from security cameras via a wireless connection or ethernet connection. This leads to higher image and audio quality. NVR stands for network video recorder, DVR stands for digital video recorder. DVRs use coaxial cables to connect with cameras.
Can any security camera work with any DVR?
Not every security camera can work with a DVR. For a camera to work with DVRs, it needs to be an analog camera with a coaxial connection. You cannot mix in a camera meant for an NVR system as these cameras use an ethernet cable to connect.
Is a wireless or wired DVR security camera better?
Wireless security DVR cameras are better than wired security cameras if you have stable WiFi and want to avoid complicated installation. With wireless cameras, you don't need to run wires throughout your home to the recording console. You must have a stable WiFi connection, or you may experience disruptions.
How do I connect my security cameras to my TV without a DVR?
You can connect your security cameras to your TV without DVRs by using correct wiring and adapters. To do this, you need to first make sure you have a traditional analog camera. Use an RG59 siamese coaxial cable with a BNC to RNA adaptor to connect to the TV.
Can I use a CCTV camera without a DVR?
You can use a CCTV camera without DVRs. To do this, you can connect your CCTV camera directly to your TV or, if it is a wireless camera, monitor the live feed from an app if its available. Only traditional analog cameras can be connected directly to a TV.
And The #1 Wireless Outdoor DVR Security Camera is...
The Reolink 8CH gets our vote for the best wireless outdoor home security camera with DVR out of all the cameras we tested. All of the cameras on this list are good, but the Reolink 8CH consistently outperformed the rest in key areas such as image quality, ease of installation, and extra features.
The plug and play set up makes installation easy. It's also nice that you can connect an external monitor to the recorder through a simple HDMI cable. The free Reolink app is a positive as well and makes using the camera security system seamless. If you're looking for the best outdoor wireless security camera system with DVR, check out the Reolink 8CH.
Reolink 8CH Outdoor Camera System
Our #1 Recommendation
No signal degradation
5MP 4K camera resolution
Four cameras included, handles up to 8
Easy plug and play setup