Security companies can be hit or miss. Ideally, you get around the clock protection. Sometimes though, you get stuck in a contract with sub-par service. That's why we continuously review security companies.
This time, the team thoroughly reviewed Monitronics so you can more confidently decide the best company to protect your family.
What Is Monitronics?
Monitronics is a security company that has been in business for 20 years and has a vast network around the country. This also means they have advanced security equipment and an extensive support network.
You can get a complete security system that includes security cameras, home automation features, and more. All of this also comes in three straight forward packages that are transparently priced. Customer reviews on the company are mixed with most of them leaning towards the positive.
Pros:
24/7 security monitoring
Upfront cost and straightforward monthly pricing
Advanced equipment including touchscreen control panel
Monitronic is a nationwide service provider
Cons:
Long three year contract
Complaints about collection agency
Pricey monitoring rates
Packages They Offer
There are three basic packages that you can choose from, the Moni Smart Security Essential, Smart Security Complete, and Smart Security Ultimate.
Each of these packages comes with a touch screen control panel, door and window sensors, and access to the mobile app. The complete and ultimate plans also come with video surveillance.
Security Essential
Security Complete
Security Ultimate (premium)
Monitronics Equipment Options

All of the packages come with one touch screen panel. The essential package has one motion detector and two-door sensors with the complete and ultimate having two motion sensors and three door and window sensors.
With the complete package, there is a single indoor video that connects to your smartphone and with the ultimate package you can add an outdoor camera and an inexpensive doorbell camera. Aside from the essential equipment, the company offers a variety of smart home integrations such as:
Freeze sensors
Shock sensors
Carbon monoxide detectors
Smoke detectors
Yard sign and window decals
Smart Home Automation
Like many other home security companies, Monitronics alarm has been taking steps to incorporate their equipment into smart electronics and home automation.
The Moni smart security system allows you to control everything right from your smartphone. This includes your security systems basic features, the thermostat, smart door locks, and more.
"I had my panel replaced recently, and the tech came out and explained everything to me and took his time to make sure we understood how the panel works... The system is easy to use and performs everything we needed to do."

- Robert, Consumer Affairs Reviewer
Equipment Warranty
While you don't get a lifetime warranty, the alarm company offers a two-year warranty with all of the equipment.
This covers the essential equipment that comes with each package and any extra equipment you decide to purchase with your system. The warranty states that if anything breaks during those two years, it will be replaced.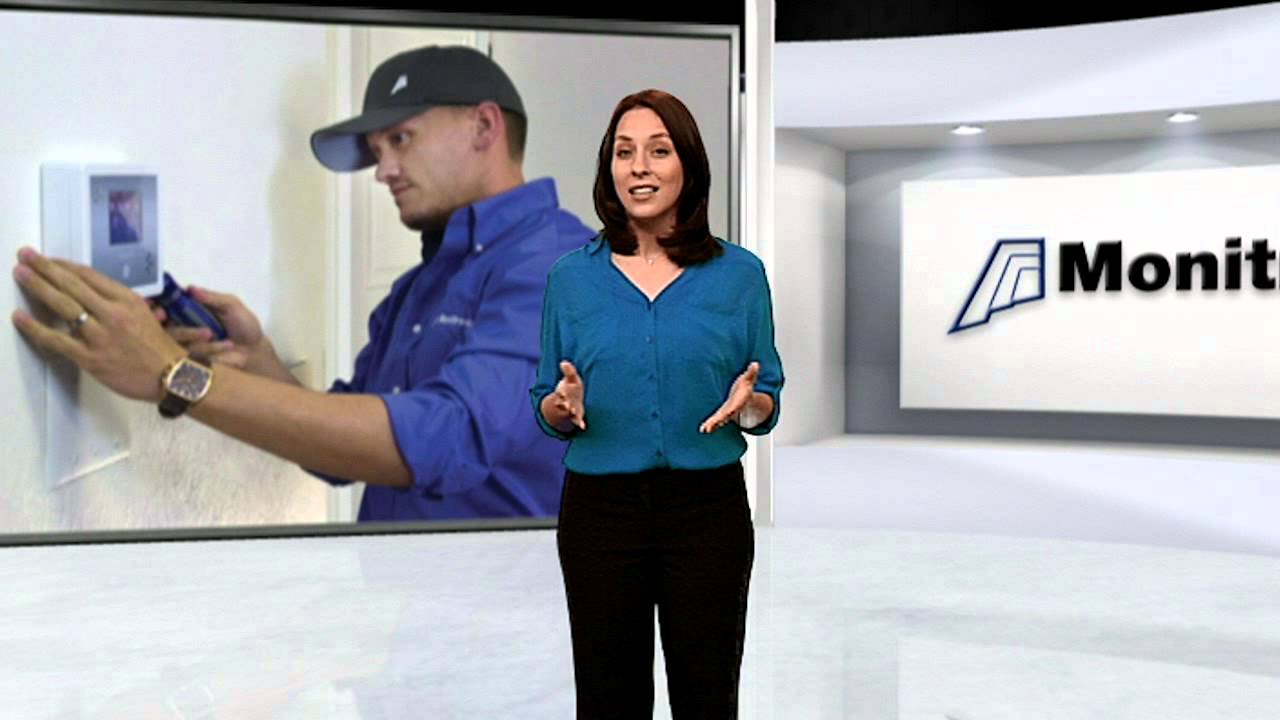 Monitronics Installation Process
The installation process is relatively straight forward with everything made to be self-installed. All of the components come with extra strength adhesive so that you don't have to drill holes into walls.
In the event you want to make sure the job is done correctly, professional installation is an option. This can be especially handy for a larger new home with many components or smart home installs. There is a free professional installation for the Smart Home Ultimate package.
Check out more security providers here:
How is the Moni Home Customer Support?
As one of the largest alarm companies in the nation, Monitronics has an extensive customer service department. Their support team phone number can be reached via a phone call 24 hours a day, seven days a week. They offer professional support for all of their home security systems.
Monitronics Reviews
After a thorough round of testing, we found the Moni security system to be top-notch. It has everything we expect in a complete system, including motion detectors, monthly monitoring service, door sensors, and more. But, the contract can be a deal-breaker with such a long commitment.
Better Business Bureau (BBB)
Moni Security has an A+ rating on the Better Business Bureau website. The company has 277 reviews, with the average being a one-star rating (1).
Consumer Affairs
The company has 571 ratings, with an average of three and one-half stars. Reviews are equally split, with the most significant number of reviews being five stars and the next largest being one star (2).
Trust Pilot
There are 2,089 reviews on the Trust Pilot website for the home security company. Their average rating is four stars, with 69% of their reviews being five stars (3).
FAQs
Did Brinks buy Monitronics?
Brinks did not buy Monitronics. The Brinks Company, one of the largest private security firms in the United States, licensed the trademarks and business from Monitronics. The Brinks Company did this to reenter the home alarm system market in 2019.
Is Monitronics going out of business?
Monitronics Home Security is not going out of business. The company licensed all of its trademarks and business to Brink Home Security in 2019 when the Brinks company decided to enter reenter the home security system market. Moni is still a publicly-traded company and is one of the largest alarm system companies in the United States.
Did Monitronics change their name?
Monitronics changed their name to Moni in 2016, along with their logo and other style elements. In 2019, they licensed all of their trademarks and the rest of their business to Brinks Home Security. The name, as well as all of their logos and branding, has since changed to Brinks.
How much is Monitronics monthly?
Monitronics monthly pricing depends on which package you decide on. The essential package costs more or less $199, including the activation fee and monthly monitoring fee. If you choose the complete package, the cost will be approximately $499, including activation fees and a monthly fee. The ultimate package costs more or less $1,099 plus monthly monitoring fees.
Monitronics - Is There A Better Option?
Monitronics is a good company and similar to Alarm.com. They've been in the business for multiple decades and have over a million customers they service. That being said, we feel there are better options. Through our Monitronics review, we've come to prefer Simplisafe as our go-to option.
Simplisafe offers protection without any commitment, so you don't have to worry about the contract details as there are none. You own all the equipment, and the customer experience and cancellation process are both smooth. Their customer service is top-notch, with phone calls answered throughout the day.
SimpliSafe
Our #1 Recommendation
60 Day Money-Back Guarantee
Free Shipping
Free Returns